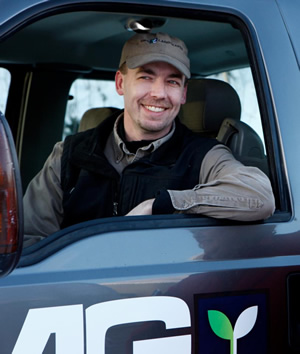 Hello! First of all thank you for finding our website and taking a look around. My name is Shane Goetsch, I am the owner of SMG Landscapes. I grew up on the farm in Nebraska where we raised hogs and grew corn. I attended college at the University of Nebraska, Omaha and earned a degree in Aviation Management/Business Administration and a commercial pilot license.
While going to college I worked for a company that installed lawn sprinkler systems. We would do anything from a residential lawn, to 9-hole golf courses. After graduating in 1996 I headed to Alaska to be a pilot. I flew in rural Alaska for five years then moved to Anchorage where my love of flying took me all over the state.
In 2005 I was living in a condo where the grounds maintenance folks were not doing a good job. I wanted the place that I called home to be inviting and well cared for inside and out. I knew I could do a better job and have the landscaping reflect Alaska's beauty. I decided to bid on the landscaping contract and won. That's when SMG Landscapes was born.
We always strive to do business with some simple but very important standards, which are to do the job right the first time, do what we say we are going to do, and if we don't get it right the first time, we will admit it and make it right. Over the years these values have made SMG Landscapes well known as a company that is trustworthy and honest. It is because of that integrity that we have retained our customers year after year and have grown as a company.
We continue to add more services so long as we are sure we can do it the right way and continue to make our customers happy.
We have a great team of people that also make our excellent service possible. They are hard-working, dedicated, and we certainly appreciate their integrity and attention to detail, because that is what is important to us, and you- the customer.
We look forward to what the future will bring and you can be rest assured that your property will be taken care of when you use SMG Landscapes for your project.