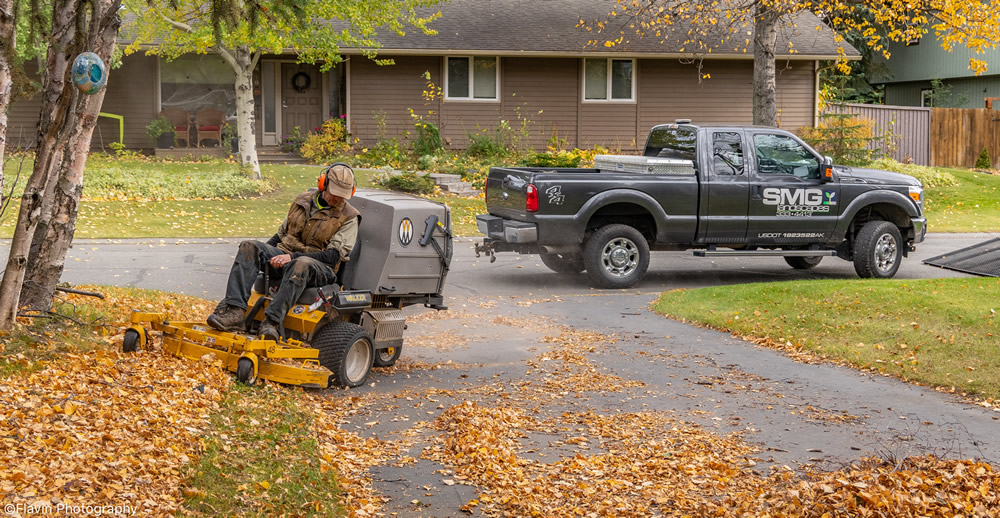 Sweeping
The parking lot or parking garage may be the first thing people see when visiting your business. Why not start making that great first impression before customers even walk through the door?  SMG Landscapes can get all of that dirt, gravel, sand, and garbage on the asphalt or concrete picked up quickly and efficiently with our LibertyDX Sweeper truck.  What can't be reached with the sweeper truck will be hand-detailed.
Learn More
---
Landscape Management
Are you a condo association manager or commercial property manager? We have a lot of experience and success with keeping these types of customers happy. If you want a landscape company that the residents will not complain about, we are the company for you. If you would like a reference from another property manager, we'd be happy to provide that to you. Bid requests for seasonal or year-round services can be sent via email.
Learn More
---
Sprinkler Systems
Think you can't have a beautiful sprinkler system in Alaska? Simply not true. Not only does it eliminate the hazard and liability of having hoses strewn all over, it also keeps your lawn healthy and green. In some areas of Anchorage, a sprinkler system also decreases the fire hazard. Installation only takes a few days (depending on the size of the project) and in most cases, you won't even be able to tell we've installed an underground irrigation system- except for the beauty of it when you turn it on of course! Request a free estimate now!
Learn More
---
Landscape and Security Lighting
Beautiful lighting is not just for the inside of your home or office. Landscape lighting is that last little touch that says you have pride in your property and take care of it. Not to mention that a well-lit area is safer too.
Learn More
---
Snow & Ice Services
Not only is snow and ice a pain to get through in the winter, it's also a liability. With our snow and ice service management, your parking lot will be plowed in a timely manner, and your walkways will be kept clear. To send a bid request for winter services, please email us.
Learn More