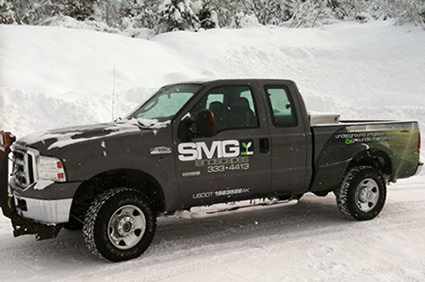 We don't just plow and leave (unless that's all you want of course!), we take care of the the whole property and constantly monitor our properties to keep the snow and ice managed as best as possible. SMG Landscapes takes care of all aspects of snow removal- snow plowing, snow haul away for areas without alot of snow storage, shoveling and putting ice melt down on walkways, spreading gravel on icy parking lots, removing ice and slush when it warms up, draining areas that fill in the spring with all that melted snow...the list of services we provide to keep a property well-maintained in the winter months goes on and on.
We take pride in keeping the snow and ice managed in such a way that it reduces potential slip and fall incidents. As a property owner or manager, such detailed maintenance protects you from liability. A well maintained property is a safe property.
If you would like a free quote on snow and ice maintenance services, feel free to contact us anytime at info@smglandscapes.com or (907)333-4413.
If you are a property manager, we would welcome the opportunity to bid on condo and homeowner association properties. Please send rfp's to us via email, or call 907.333.4413.
Regular commercial services offered
(tailored by property depending on need)
Plowing
We have a fleet of commercial plow trucks to remove the most snow as efficiently as possible. Our basic plow trigger is 2".
Shovel Sidewalks and Entrances
For your safety and convenience we clear the entrances and pathways after every snowfall of 1" or more.
Ice Melt as Needed
We apply ice melt every time we shovel to remove any residual ice and helps keep new ice from forming. We are proactive and monitor the properties to keep the surfaces safe. We are careful not to over-use product to help keep your prices down.
Snow stacking
We have the equipment to stack the snow to maximize the snow storage area to minimize your cost.
Snow Haul Away
We actively monitor the snow storage areas and haul away the snow as needed.
Need a solution for ice humps, bumps and hazards?
Do you have problems with ice build up and need a fast fix? We see it all the time at businesses with a high volume of traffic and moisture, such as car washes and food/beverage drive-thru's. We can fix that! SMG Landscapes has the equipment to grind down that ice build up. Have a heated sidewalk or drive but the ice that melts around creates a dangerous ice curb? Our machine can come in and grind that down to be level with the rest of the walkway again.
You'll find our rates quite reasonable and for bigger jobs, we offer a discount after the first hour on the job.  Please feel free to email info@smglandscapes.com or call (907) 333-4413 for a quote.